The mentoring program KaWirMento, organized by the Central Coordination Office for Mentoring of Göttingen University in cooperation with the graduate schools GGG, GSG and GAUSS, supports Postdocs and late stage PhDs of all disciplines who are interested in pursuing a career in Industry.
The one-year program consists of three units:
During the entire program each of the mentees will be accompanied by a mentor with a managing position in a local business. The mentor will advise the mentee regarding career entries and perspectives.
A complimentary training program offers 3 specific workshops tailored to meet the demands of the mentees with topics including career planning, self-presentation in job interviews, project management and leadership.
In other types of events, like mentor-mentee lunches, the mentees can get information about career opportunities and perspectives and broaden their network. Twice a year there will be "expert talks" with speakers from local businesses or Göttingen Campus. Additionally, there are monthly meetings of the mentees in peer groups to echange their experiences.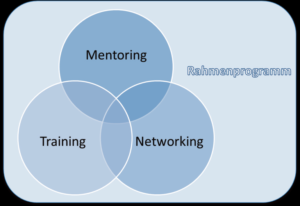 12 mentees will be carefully selected to take full advantage of this one-year mentoring program.
The program starts in June 2017. Applications are accepted between 9 January and 28 February 2017!
For more information on the program and how to apply click here!