The NEURIZONS conference is coming up again with a great scientific program supplemented by a career fair, method workshops and more.
So take a look and register for the event!
See below for the organizers' call.
Dear Colleagues,
We would like to invite you to the 8th biennial NEURIZONS 2018 Conference held in Göttingen, Germany, from 29th May – 1st June 2018.
The NEURIZONS conference brings together outstanding scientists with young researchers from all fields of neuroscience. PhD students and postdoctoral researchers enjoy an excellent opportunity for scientific exchange and networking.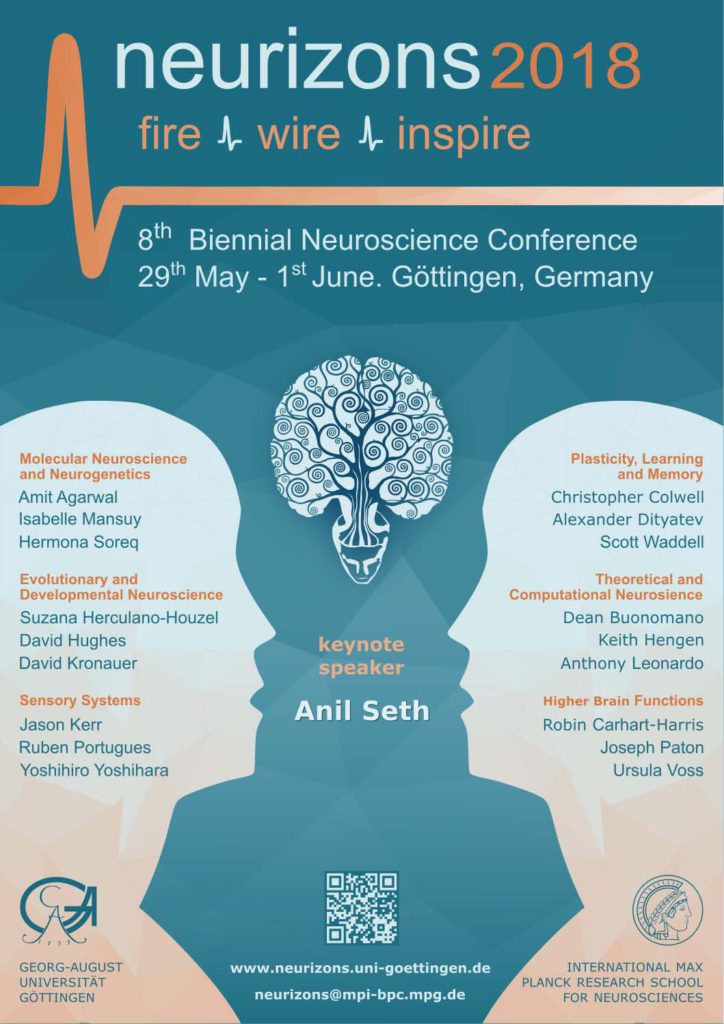 Prof. Anil Seth will give the Keynote Lecture.
The topics covered by plenary lectures include:
– Molecular Neuroscience and Neurogenetics
– Evolutionary and Developmental Neuroscience
– Sensory Systems
– Plasticity, Learning and Memory
– Theoretical and Computational Neuroscience
– Higher Brain Functions
In addition to plenary lectures, the conference offers several exciting events to fire, wire and inspire:
Young Investigator Contest: present your work in a short plenary talk, gain admiration and win a prize
Panel Discussions: join inspiring discussions between experts and students
Poster Sessions: show your work and exchange ideas
Workshops: get to know and try out modern methods used in neuroscience
Coach Me Event: meet the speakers in an one on one mentoring session
Career Fair: learn about job opportunities in science and industry
Registration is now OPEN here: http://neurizons.uni-goettingen.de/Registration/register.php
Early registration deadline: 31.01.2018
Abstract submission deadline: 01.03.2018
For further details on the invited speakers, the conference program, the registration etc. please visit the conference website http://www.neurizons.uni-goettingen.de/
Stay updated by following us on Facebook https://www.facebook.com/Neurizons/ and on Twitter.
The NEURIZONS Organizing Committee is looking forward to welcoming you at the NEURIZONS 2018 conference in Göttingen!